MR – MEDIUM RIGID LICENCE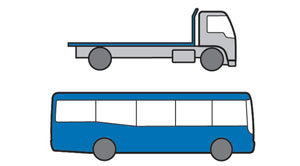 Rigid Vehicle
Number Of Axles – 2
GVM –Greater than 8 tonnes. Any towed trailer must not weigh greater than 9 tonnes GVM.
Designed for drivers who wish to upgrade from either a C or Lr class licence. Participants develop the necessary skills, knowledge and attitude to obtain a Medium Rigid Licence with a Synchromesh manual transmission, through competency based assessment (CBA) with experienced trainers accredited by the RMS.
This course can be done in a vehicle supplied by the applicant
REQUIREMENTS OF THE RMS 
Participants must hold a current

C

or LR licence and have held that licence for a minimum of twelve months.
Be proficient in the use of a manual transmission.
Participants must have completed the MEDIUM RIGID KNOWLEDGE TEST and obtained a CBA learner logbook and guide book.
The CBA guide book must have been read before starting the course.A person who holds a provisional P1 licence is not eligible for a MR licence.
You Can Download the HEAVY VEHICLE DRIVERS HANDBOOK Here
YOU Can Download PDF Questions for LR, MR, and HR Here
Provisional P2 licence holders (who also hold a Class Light rigid LR,  or  heavy vehicle licence HR will remain a provisional licence holder until they have held the P2 licence for a minimum of 2 years and pass a Driver Qualification Test. There is no variation to this rule and an unrestricted licence will not be issued until the applicant complies with the requirements of the Graduated Licensing Scheme.
 COURSE CONTENT
Competency Assessment
This is a NSW RMS approved licence course. Drivers will be trained and assessed against the RMS competency standards by our RMS accredited assessors. After the required standard of competency has been achieved the RMS will issue the appropriate licence.
How long will it take me?
The competency based assessment runs for a minimum of 5 hours as per RMS requirements. Most trainees will complete the training in approximately 8 hours, depending on prior experience and how well the trainee applies the set requirements.
What will it cost me?
 Prices for MR start from $1200 (includes training and assessment). Terms and Conditions apply
A 50% booking fee is required upon booking. Balance to be paid before commencement of course Unless other arrangements have been made
RMS Licence upgrade fees are not included.
Many trainees complete their training and assessment in the 8 hours allocated.  Any extra time will be charged at the rate of $125 per hour.
"Prices are subject to change" without notice.
PAYMENT METHOD
Eftpos – Mastercard, Visa
Electronic Funds Transfer (Direct Deposit)

Account Details: BSB 062 504  Account 10698626

Cash payments by arrangement
 JACS CANCELLATION POLICY
All booking fees are non refundable if cancellation has not been received 4 days before commencement of course date.